There's never a better time for a cozy mystery than during the colder months. Find a cozy spot, get a blanket and some hot cocoa, and snuggle up with one of these holiday themed cozy mysteries.
When Hannah Swensen finds her neighbor Ernie Kusak with his head bashed in and sprawled on the floor of his condo next to an upended box of Hannah's Gingerbread Cookies she discovers a flurry of murder suspects that's as long as her holiday shopping list.
As if baking holiday cookies, knitting a sweater for her husband's gift, and making her daughter's angel costume for the church pageant weren't enough things for Lucy Stone's busy Christmas schedule, she's also working nights at the famous mail-order company Country Cousins. But when she discovers Sam Miller, its very wealthy founder, dead in his car from an apparent suicide, the sleuth in her knows something just doesn't smell right.
It's the most picturesque time of the year in Santa Fe, and Chef Rita Lafitte of Tres Amigas Café hopes the twinkling lights and tasty holiday treats will charm her visiting mom. What she doesn't plan for is murder. Rita discovers a dead actor during the premier performance but vows to keep clear of the case. Sleuthing would upset her mom. However, when the accused's wife begs for assistance-and points out that Celia and other performers could be in danger-Rita can't say no.
Business is booming at the Scottish Emporium in Moosetookalook, Maine, and Liss MacCrimmon Ruskin couldn't be happier–or busier. A romantic getaway at a rustic Christmas tree farm is just what she needs. But the property's mysterious past has her feeling less than merry. . .
When the scandalous Prissy Carr is found dead in an alley behind a tavern just before Christmas, Stella "Granny" Reid decides to investigate and what she finds puts the lives of those she loves in danger.
'Tis the season to be jolly, but Cora Felton has every right to feel like a grinch. When someone steals the partridge from the pear tree and replaces it with a cryptic puzzle she has no hope of solving, it's almost more than the Puzzle Lady can bear.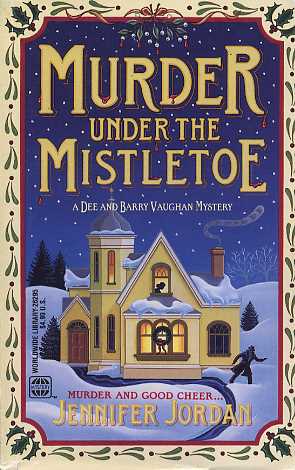 Dee and Barry Vaughan are having a lovely country Christmas at the Grove Inn–until one of the guests, the gorgeous Miranda Richardson, is murdered. There are plenty of suspects to choose from, but Dee and Barry are more interested in Miranda herself–clearly, it is what she knew that has caused one of her admirers to extinguish her festive spirit.